Our mini-stay programmes offer groups of students and their teachers a unique opportunity to experience Ireland while staying on the beautiful Gormanston Park residential campus. These programmes are available from September to June. We can tailor the programme to meet your specific group needs.
All our courses take place in well-equipped classrooms on-site. Our experienced teachers will help your students have a memorable learning experience.
We are the only campus with 465 beds available for 12 months of the year. We are able to facilitate all your group sizes, both large and small. We have an excellent team who work hard to ensure your students have a memorable experience at Gormanston Park School of English.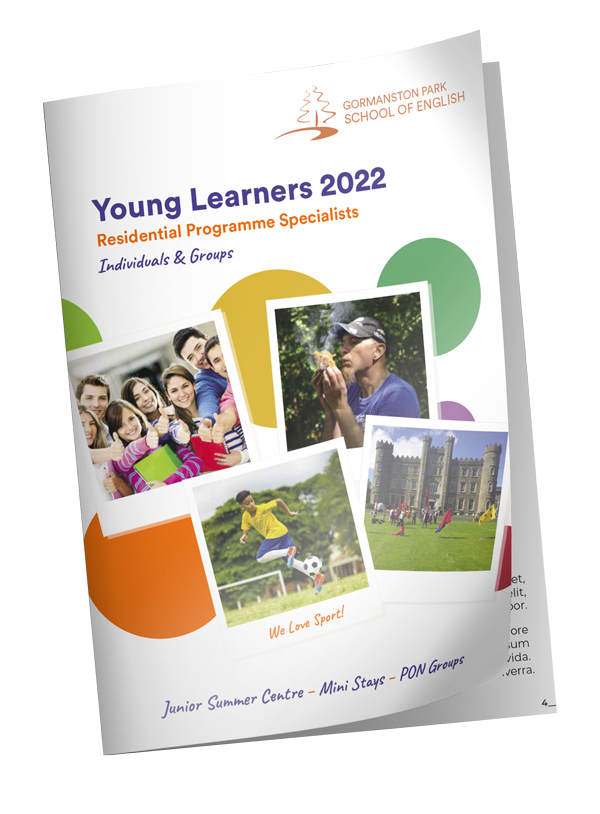 Academic Options Available
Other academic options available on request. Let us know what topics your group would like to study and our Academic Manager will prepare a syllabus specifically for your group.
Irish Lifestyle & Culture
This course will allow your group to focus on Irish culture while exploring daily life in Ireland. It will give your students an understanding of the Irish identity and help them discover similarities and contrasts with their own culture.
This course develops the language and skills necessary to work in a tourism or hospitality environment. There is a strong focus on effective communication and interesting project work in this exciting area.
Groups can choose to prepare for a recognised English examination as part of their mini-stay programme. First Certificate Preparation (FCE) and IELTS are popular. If you have a specific exam your group wish to prepare for, we can design a tailor-made syllabus for you.
Choose a General English option which will focus on the 4 key skills; reading, writing, listening and speaking. Let us know in advance if your group wishes to focus on a certain area of English language and our academic team will ensure this is the focus of your course.
We have a full range of activities available in the mornings, evenings and weekends. In the afternoon visit Dublin to see Trinity College or the Guinness Storehouse. You can choose to stay more local and visit the historical sight of Newgrange, a prehistoric monument that is older than the Pyramids of Egypt.
At the weekends you can take a full day excursion to different parts of Ireland including Glendalough, Kilkenny Castle and Belfast.
We have a range of free activities available in the afternoons and evenings on Gormanston Park campus. Even if your budget is tight we will ensure your group has a memorable experience with us.
We have 400 en-suite beds with a further 60 beds with shared bathrooms. Our facilities are recently refurbished and offer our students a very comfortable living experience. Students share in bedrooms with 4-6 students per room.
Our restaurant seats 250 students and is run by our head chef Eddie. Eddie loves food and works hard to make sure all our students enjoy their meals. His staff are very friendly and make the daily experience even more enjoyable.
Typical Mini-Stay Programme
Note: Every group will have a group co-ordinator who will be available to your group leaders during their stay to assist with all enquiries and accompany them on their chosen activities.
Sample 7-day Mini-Stay Programme
0800-0900
0900-1230
1230-1400
1400-1730
1800-1900
1900-2100
Sunday
Arrival Day
Monday
Breakfast
English Course
Lunch
Free Trip to Dublin City Centre
Dinner
Movie Night
Tuesday
Breakfast
English Course
Lunch
Visit Newgrange
Dinner
Wednesday
Breakfast
English Course
Lunch
Free Sports Activity
Dinner
Irish Music Night
Thursday
Breakfast
English Course
Lunch
Trinity College Bublin
Dinner
Friday
Breakfast
English Course
Lunch
Bowling
Dinner
Quiz Night
Saturday
Breakfast
Followed by Full Day Excursion, Packed Lunch, Dinner
Sunday
Departure Day